And a Nerd Wars dissertation is a three-ended needle (or hook, for the crocheters among us).
Today we feature the overwhelming SEVENTEEN Rangers doing dissertations this tournament! Considering we lost two of the Anla'shok to the Shadows, bringing our numbers down to just 27, this is quite impressive! I feel rather under-achieving in comparison…
These losses also mean we are smaller than the other teams by about 90%. But then, we Rangers are used to going up against superior fighting forces. We have beaten the Shadows before, and we will do so again–what's a few Trekkies and pineapple fanatics compared to that?
So, without further ado, the dissertations of our ambitious fellow Rangers, along with lots of pretty pictures of yarn and stitch patterns. Because, let's face it, folks, we're mostly just here for the eye-candy.
GIVING GEEKS
AmyDe battles Soul Hunters and cancer with an impressive TWELVE chemo caps in all the colors of the rainbow!
INTELLECTUAL
caitcreates is making the universes' most impressive knit afghan:
 TECHNICAL
 FrauC is crocheting a Minbari-inspired sweater in a lovely shell pattern:
MRPP is knitting a cardigan very much in keeping with the Rangers, a hybrid of two different patterns! And it's the perfect color for the Anla'shok, too:
DisplacedScarlet has also grabbed Ranger-colored yarn, this time for a shawl evocative of, among other things, the hairstyle of our favorite ambassador from Centauri Prime!
MadCrocheter is knitting two sparkly, sparkly shawlettes. So much SHINY!
Abandonada is filling in the gaps in the B5 crews' wardrobes with an off-duty sweater:
JenniferFour is knitting a short jacket which will look absolutely fabulous with her Ranger pin clipped onto it: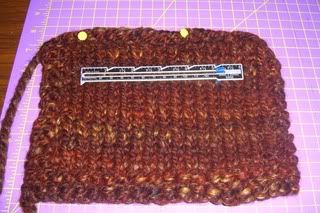 mtnikolle is making our favorite Captain Sheridan a pair of ziggy-zaggy socks:
Our Team Manager StrangeKitten38 is knitting a sweater for her DS (who appears to have the same absurd measurements as my DB) with color references many of the iconic elements of the B5 universe:
Squeakjr brings us another 'hybrid' project with TWO pairs of socks, one knitted, one crocheted. The only question remaining: Are humans knitting and Minbari crochet, or is it the other way around?
StabTheWool is hard at work on a crocheted shawl so full of Ranger-ific symbology that I'm pretty sure it will soon explode from too much awesome:
renatria is knitting clothes for all the (off-screen) babies born on B5 in a lovely soft pink color.
knitsforgeeks is making a lovely, lacy sweater for Na'Toth:
And Entil'zha (codename icanhasmohair) is showing us all up with a combined shawl AND sock project for Satai Delenn:
SCIENTIFIC
MamaCat is knitting a lovely galactic lace shawl:
ciellel has unearthed some of the lost writings of G'Kar (I suspect they are something akin to the Gnostic Gospels; some council somewhere decided to cut all the knitting bits out of the Book of G'Kar) and is hard at work at a gorgeous beaded skirt:
…well, I don't know about the rest of you, but I'm exhausted just looking at the pictures! Major kudos to all of our B5 dissertation-ers! I'm going to go back to my puny mittens now…